Find a Dentist To Evaluate Your Risk Factors For Oral Cancer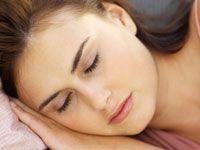 Oral and oropharyngeal cancers are malignancies that include the lips, tongue, lining of the cheeks (buccal mucosa), floor of the mouth, gum (gingiva), the area behind the lower wisdom teeth (retromolar trigone), the roof of the mouth (hard and soft palates), the back of mouth and throat (oropharynx), and the sides of the throat (tonsil areas).
Oral and oropharyngeal cancers are most often diagnosed in older adults (average age at diagnosis is between 60 and 63), with over 95% of the oral cancer cases occurring after the age of 45. Men are diagnosed with oral and oropharyngeal cancer twice as often as women. Over the past several decades, the overall number of oral and oropharyngeal cancers has not changed; however, the number of men being diagnosed with the disease is decreasing and the number of women with the disease is increasing.
All forms of tobacco and excessive use of alcohol have been identified as major risks factors for oral and oropharyngeal cancers, and are suspected to account for 75% of all oral and oropharyngeal cancers in the United States. Sun exposure is a risk factor for lip cancer, while smokeless (snuff or spit) tobacco increases the risk for cancers inside the lips and cheek. Other risk factors for oral and oropharyngeal cancer are vitamin A deficiency and Plummer-Vinson Syndrome (a very rare iron deficiency).
The American Cancer Society estimates that 7,800 people will die because of oral or oropharyngeal cancer in the year 2000. Overall, people surviving five years after a diagnosis of oral and oropharyngeal cancer have shown little improvement; half of the people diagnosed with this disease survive five years. Deaths due to oral and oropharyngeal cancer vary greatly with the stage (spread) of the cancer at diagnosis. Oral and oropharyngeal cancers that are detected and treated early, and are localized, have greatly improved survival compared to those that have spread.
Early localized oral and pharyngeal cancers often are not bothersome and therefore go undetected until the cancer has spread. About half of oral and oropharyngeal cancers have spread to the lymph nodes (spread to the neck) at the time of diagnosis or treatment. Three sites within the mouth are high-risk for the development of oral and oropharyngeal cancer: the floor of the mouth, the sides of the tongue, and the soft palate complex (soft palate, inside the retromolar trigone, and tonsil area).
Detection of an oral and oropharyngeal cancer also identifies an individual who is at high risk for developing or having a cancer of the respiratory system and upper digestive tract (larynx, lung, and esophagus).
Warning signs and symptoms of oral and oropharyngeal cancer:
A mouth sore that does not heal
A lump or thickened mass in mouth or neck
A red or white patch in mouth
A sore throat or feeling that something is caught
Voice change
Difficulty chewing or swallowing
Difficulty moving the jaw or tongue
Numbness
Swelling
Loosening of teeth
Weight loss
Pain may not be present with early oral and oropharyngeal lesions. Traumatic oral lesions will resolve or greatly improve after the cause of the trauma is removed (such as a sharp tooth or denture). A biopsy, to rule out or confirm a malignancy, is indicated if an oral lesion persists after two weeks. A dentist and/or physician should evaluate all suspicious lesions.
By Denise J. Fedele, DMD, MS
FAQs on Dentures, Seniors Dentistry and Woman's Oral Health Needs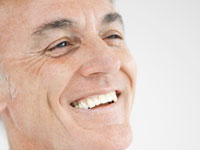 Q. How do you clean your dentures?
A. In cleaning your dentures you should first rinse away loose food particles thoroughly. Then moisten your toothbrush and apply denture cleanser. Brush every surface, scrubbing gently to avoid damage.
Q. Why do your teeth seem darker as you age?
A. Your teeth may seem darker because plaque can build up faster and in larger amounts as you age. Changes in dentin can cause your teeth to appear a little darker as well.
Q. Why does your mouth seem dry?
A. Dry mouth is a common problem among seniors. It is caused by certain medical disorders and is often a side effect of some medications.
Q. Are seniors more susceptible to gum disease?
A. Yes. The severity of gum disease may be increased due to ill-fitting dentures or bridges, poor diets, poor oral hygiene, other medical diseases, and even some medications.
Q. Why do seniors lose their sense of taste?
A. Seniors tend to lose their sense of taste because age decreases the sense of taste and smell. Certain diseases, medications and dentures can also contribute to the decrease of your sense of taste.
Q. Should seniors be worried about cavities?
A. Yes. The majorities of seniors have tooth-root decay and are more susceptible to cavities.
Q. Why should women be more careful with their oral health?
A. For many women, dental care depends on their different stages of life that are directly related to surges in sex hormone levels. Your dentist may request to see you more frequently during hormonal surges.
Q. How do oral contraceptives affect women's oral health?
Gingivitis may occur with long-term use of oral contraceptives because they contain estrogen or progesterone. Women who use oral contraceptives are two times as likely to develop dry sockets and require dental care more often.
Q. How does pregnancy affect oral health?
A. There is an increase in the amount of plaque on your teeth due to pregnancy because there is an increase in estrogen and progesterone.
Q. How does morning sickness affect oral health?
A. The acid in vomit causes tooth erosion. Women can neutralize the acid by using a baking soda and water paste and rubbing it on their teeth. Rinse the paste off after 30 seconds and then brush and floss.
Q. What is the likeliness of having tumors during pregnancy?
A. Women are at risk for developing pregnancy tumors that are benign growths that develop when swollen gums become irritated. The tumors usually shrink soon after the pregnancy is over.
Q. How does plaque build-up affect pregnant women?
A. If plaque is not removed it can cause gingivitis and women with periodontal disease may be at risk for pre-term, low-birth weight babies.
Q. What problems occur for girls experiencing puberty?
A. The surge in hormones that occurs during puberty may cause swollen gums, especially during menstruation. Herpes-type lesions and ulcers can also develop. They may also experience sensitive gums that react more to irritants.
Q. What are intraoral cameras?
A. An intraoral camera is a miniature video camera that the dentist places in the patient's mouth so that together they can view any dental problems that the patient is having. The image from the camera is enlarged and sent to a monitor for viewing.
Q. What is the purpose of intraoral cameras?
A. The purpose behind intraoral cameras is to allow the patient to see the specific area that needs treatment so that they are more likely to understand the dentist's recommendation and accept it.
Q. How can CD-ROM be beneficial in dentistry?
A. CD-ROM is beneficial in dentistry because patient education will be much simpler with information stored on CD-ROM. Procedures can be explained to patients in advance and post-operative instructions can be provided for them to take home.